Bucks party boat hire Perth Western Australia
If you are looking for the best for buck's parties ideas. Pelican offers two of the best charter boats for hire. We help you celebrate with out the Fuss of the city. A great time to remember Swan river or full day tours to Rottnest Island & Carnac Island.!
After all it is your mate and his last hours as a bachelor

When you are planning a big stag Doo for your mates, be sure this is no ordinary weekend. It is all about that you and the boys have a good time. Friday and Saturday nights when you go out to the clubs, drink, and talk to women can be a great time, but this has to be something special
His last day as a bachelor.
Bucks party ideas custom to your needs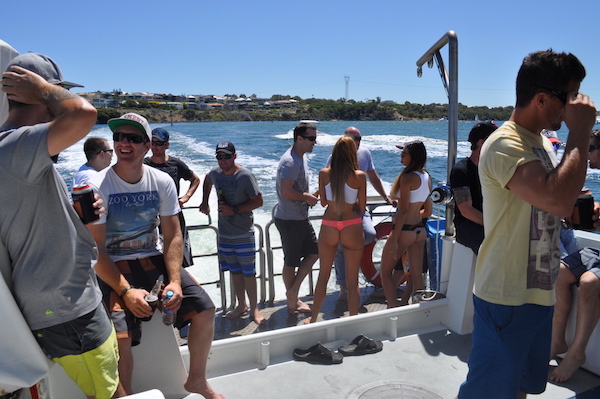 Swan River Boat Hire Perth Start planning ahead. You will have to make reservations, organize drinks, possibly a waitress. Meaning a lot of phone calls and correspondence, consider things such as transportation, food, activities, and entertainment. You need to think of all of the details before the night of the big celebration, otherwise you and your mates will not be able to enjoy yourselves because you will be too busy organising the details of the event. Sometimes the classics are the best.
When you are planning a big stag Doo for your mates, be sure this is no ordinary weekend. The fact that you and your mates, have a good time. Friday and Saturday nights when you go out to the clubs, drink, and talk to women can be a great time , but this has to be something special.
Some grooms these days just aren't into the traditional booze and women activities scene, on their day, if your mate is into drinking but doesn't want to make his bride to be uncomfortable with the idea of half or less dressed women around. Take the whole lot of them on a cruse. Great function ideas Perth offers, out doors spend the day at the beach and try some water sports. A fun trip for many mates is to go to a favourite destination, like a Swan river cruise or Rottnest Island. Play cricket have tug of war competitions, play touch footy on the beach. You can go diving to the Reef. Plan a day on fishing and drinking beer. All of this can happen on Rotto or swan river party cruises with a few mates and a few beers
We can help! You want to spend your last night as a bachelor laughing.
On the Pelican you have more control of your function and Bucks party elements including the tunes, catering for food, drinks & entertainment. Once you step on board your guests will have perfect amount of room, with our big bow for viewing the ocean, a large deck area, and marlin board for access to the water.
Kitchen and BBQ facilities

The crew will cook for you

Plenty of Room to move, or be seated

And we clean up after, so you can go to Town